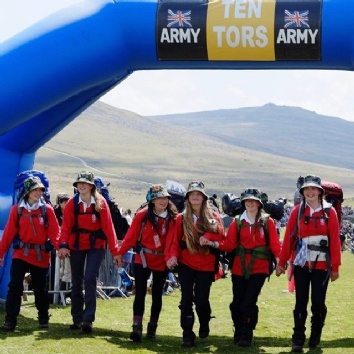 The Ten Tors teams have successfully completed the Annual Challenge again this year
After months of training on Dartmoor in the rain, fog, gale force winds and even snow the teams got the chance to put their training to the test in some fine weather for a change.
For the first time we had three 35-mile Challenge teams, all made up of students from Year 10. The students were amazing throughout training and despite the atrocious weather they showed no signs of dropping out, so we asked the Army for an additional team and were lucky enough to be allocated a third team.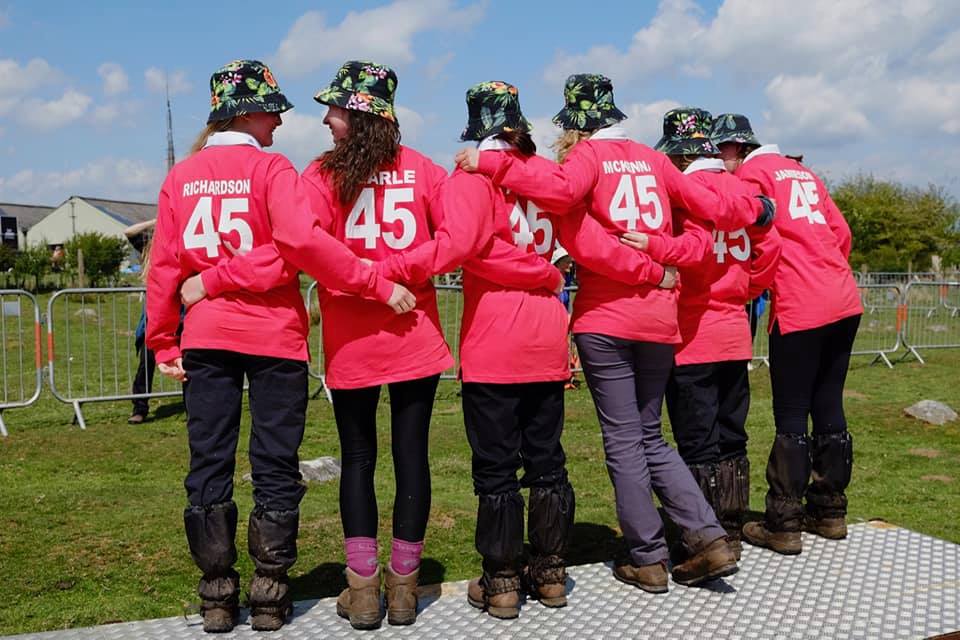 We also had a 45-mile challenge team made up of students from year 11 and 12. The 35 mile teams went up on the Friday to prepare by attending the safety briefing and planning their route for the weekends walk. After school the 45 teams came up to join the camp and after dinner the final touches were added to the route cards, then off to bed for some sleep before the 4.30 wakeup call. The following day all the teams had breakfast then headed up to the start ready to set off as the canon fires at 07.00. Parents/carers were then able to follow how the teams were progressing on line, only relaxing once they know they are safely camped for the night.
The next day the teams were up and off ready for the first check in at 06.00 and heading back via their remaining tors towards Okehampton for the finish. Our first team back at 12.54 was the DHSG 35 team, led by Lara Stephens, with Darja Zimnikova, Lucy Langdon, Ursula Richardson, Mya McCullogh and Caiti Wardle. They were closely followed at 12.58 by the DHSG 35 mile team, consisting of Helena Campbell, Megan Angell, Daisy Guilor, Amber Rudge, Holly Smithson and Emily Gittins. The final 35 mile team led by Rachel Zanetti with Victoria Greenaway, Josie Bowden, Jessica Patterson, Hermia Kung and Isobel Jackson came in a little later, at 13.17 followed by the 45 mile team at 13.54 which was ably led by Cara Jamieson, and was made up of Bella McKenna, Leona Kurichara-Allen, Ellie Lyons, Anna Clarke, Bea Richardson and Louise Searle. A big thank you also needs to go to Anna Clarke and Lauren who came up to support as reserves. This is the earliest we have ever had all our teams back in, so a really massive well done to all the students involved.
We have been lucky enough to have Mrs Gillan join us in January as a Geography teacher, who has entered fully into the training team, and Ms Clatworthy and Ms Ricks who will always help out if help is needed. I would also like to extend a thank you to our massive team of volunteer helpers without whom this event would be impossible.
Our team has been managed this year by Pete Hamblin who stepped in at the last minute, and he has been assisted in the route planning by Nick Dormor, and out on the moors by Robert Hughes, Martin Williams, Bob Costin, Maxine Arnold, Wayne Champs, and Treeve Gillan. We also have a superb off-moor safety team of Anne Hughes and Martin Baggaley who keep track of us and offer succour when it is needed. Also to Mr Barker, the caretaker in school and Ms Knowles, the art technician who have helped hugely by helping to dry the many wet tents that have come back into school on a Monday morning throughout the training season.
Thanks also need to go to Bookers who helped sponsor the event by providing some of the food for the teams, and to all the parents/carers who got up early to drop off children, and were prompt at collecting them so there was very little waiting in cold carparks after our return. This does make a huge difference to staff and volunteers.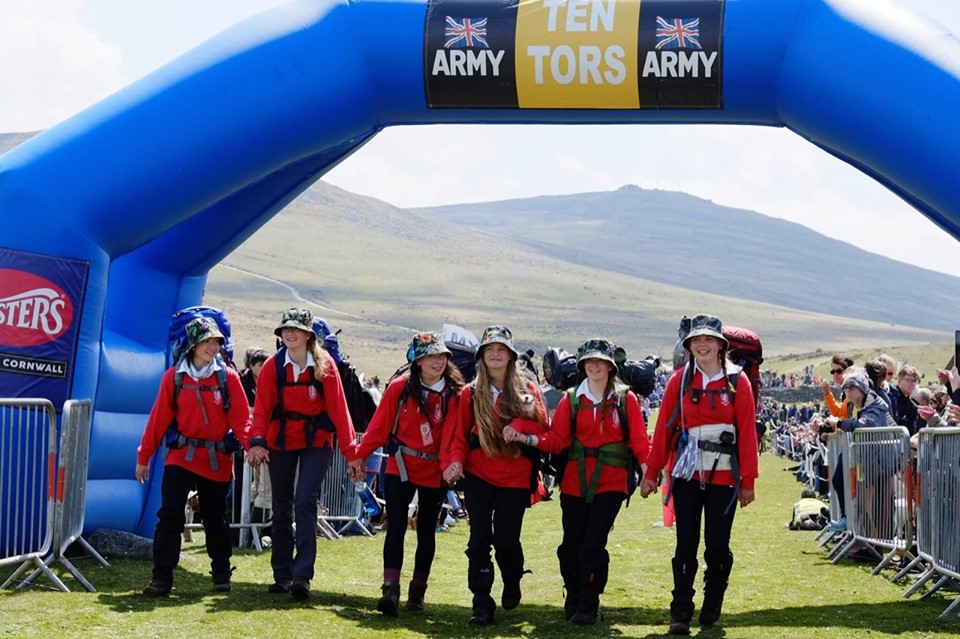 All teams finished strongly to achieve their medals and certificates and we feel privileged to have had the opportunity to have played a small part in the training that saw these teams achieve their goals. All students really impressed us with their determination to complete this challenge and the team spirit is phenomenal. A massive well done to all those who took part in the training this year. I hope they are already beginning to think about next year as the training team is already starting the planning. The dates for next year will be going up soon on the notice board.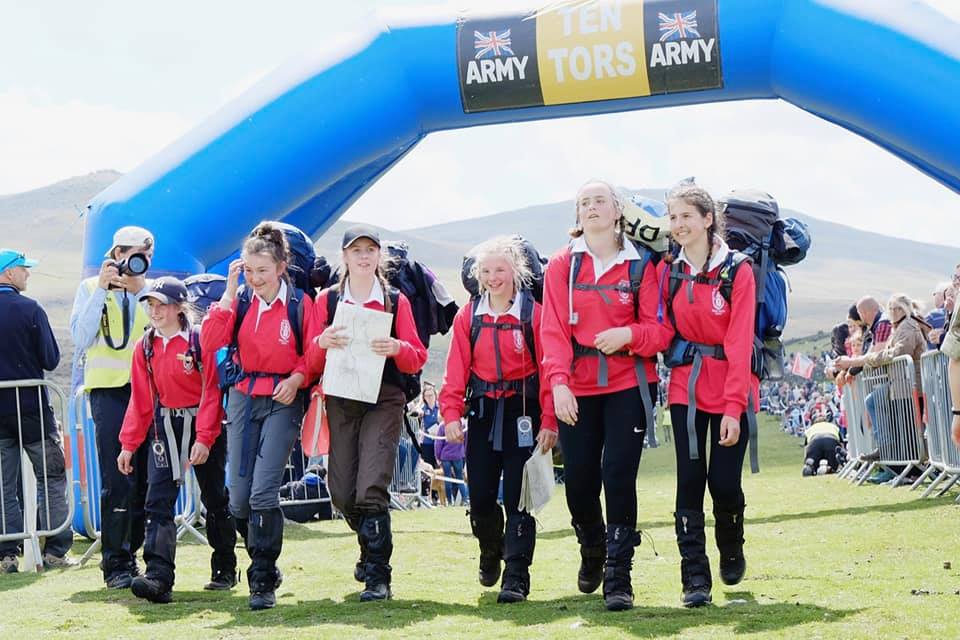 We are planning a celebration evening on June 20th, from 18.00-19.00 where we will hand out certificates and hopefully raise some money for Dartmoor Rescue as they came to our assistance this year, and I would like to extend the invitation to anyone who participated in the event or the training and their families, and also to anyone in Year 9 who might be thinking of taking part in the training next year. This will give you and your families a great introduction to the event and an opportunity to chat to those who have taken part this year to find out what it is all about. If anyone has any raffle prizes they would like to donate to aid the fund raising that would be very much appreciated, and they can be dropped into me anytime.
Mrs Anderson