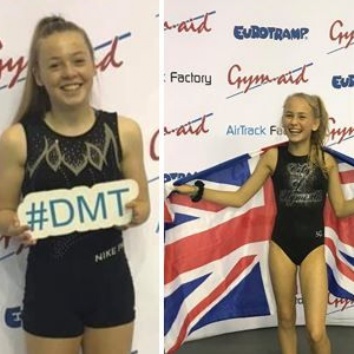 Two talented DHSG students competed in Birmingham this weekend at the British Gymnastic Trampoline, DMT & Tumbling Championships.
Nyla from Yr8 went into Trampolining and Tumbling British Championships finals in 6th place in her age group. She performed a beautiful finals routine which was in 2nd place but as it was a cumulative final it just wasn't enough to push her into medals.

She has finished individual trampoline 5th in GBR this season.
She did however pick up a bronze medal with her synchro partner Gabby from Leeds. All in all, along with her English Championships titles, it's a great finish for this young star!

Talented DHSG student Libby from Yr10 came 8th in the women's age 15-16 double mini trampoline category. Congratulations to both girls.