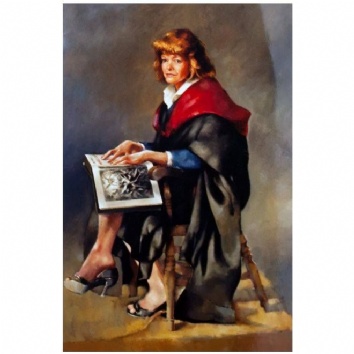 Former Head Teacher Audrey Clayton has sadly passed away
We received some sad news this week that former Head Teacher Audrey Clayton passed away on 3rd June 2018. She was the Head Mistress at DHSG from 1977-85. We are grateful to the Lenkiewicz Foundation for allowing us to reproduce a painting of Audrey in her Academic Gown.
Quotes from some of her students:
'She was very fondly thought of. I remember her leaving assembly in 1985 when I was in the Second Year. Thank you for sharing this sad news.'
'Sad news, she was the best head. She left a lasting impression and I remember her leaving assembly.'
'Sad news. What a fabulous painting of her though! I remember she always wore gorgeous shoes when we were crowded into her office, sat on the floor, listening to her read whichever book we were studying for English.'
'Very sad news. I remember her well. She took us for English once a week, reading Wind in the Willows. A lovely lady and what an honour to be remembered in a painting.'
'Often think of my days at DHSG. Condolences to all concerned. '
'Sine Labe Decus . I remember on a coach trip Mrs Clayton corrected the pronunciation of our singing of '10 green bottles! She asked for standards . '
'Very sad news, I attended DHSG whilst she was Headmistress and I remember her with fondness xx'
'She was my head teacher with Mrs Debenham as the deputy. How sad.
I remember her being a lovely headmistress '