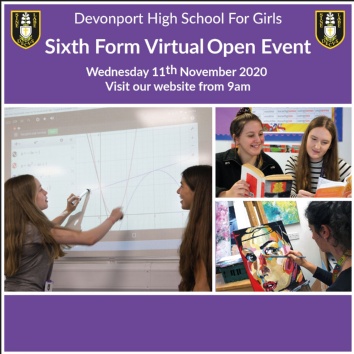 Sixth Form Virtual Open Event
Welcome to the Devonport High School for Girls Sixth Form Virtual Open Day. We really hope that you will enjoy reading through the fantastic opportunities on offer at our vibrant and dynamic Sixth Form.
We are really proud of our excellent working environment and fantastic record in preparing our learners for life in the outside world. Curriculum runs through everything we do, and we work incredibly hard to ensure that every student has a tailored approach to their curriculum to ensure that all are equipped with what they need to thrive in the next phase of their lives.
Please do get in touch with us if you have any questions about anything relating to what you see, and we certainly hope to welcome you all for September 2021.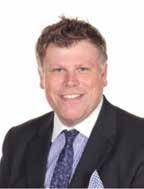 Mr E Lamb
Assistant Head Teacher
Head of Sixth Form
Careers Education Lead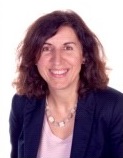 Dr R Morris
Assistant Head of Sixth Form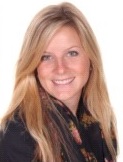 Mrs C Purland
Administrator Sixth Form
Please explore this page and the sixth form prospectus to see the amazing opportunities that are on show at our Sixth Form. An External Application form can also be found on our prospectus page.
For further information about our student destinations, please visit our Destinations page.
Welcome to Devonport High School for Girls Sixth Form

Welcome to DHSG
DHSG From the Air
Oxbridge

Medicine, Veterinary Science and Dentistry

Ask a Question
For any admissions or curriculum queries please email
Mr E Lamb
For any queries regarding pastoral care in the sixth form please email
Dr F Morris

Subject Information
Art
Welcome to Art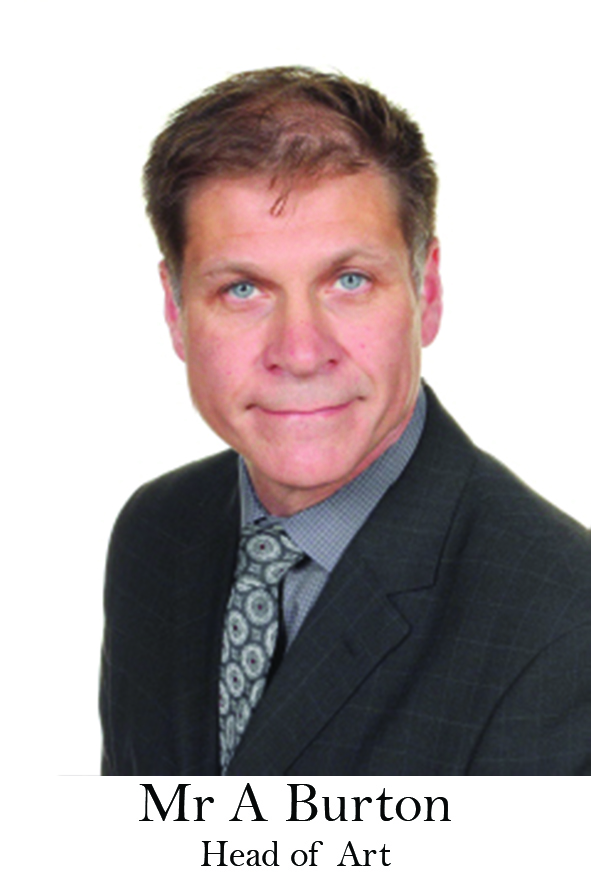 Head of Art: Mr A Burton
Art is a process of discovery; on the first part of the course we will be investigating what mark making is and how to apply these skills and techniques in creating works of art. We will be looking at a diverse range of artists and art movement's, combining artist research with your own development as an artist. We work in a focused but relaxed atmosphere working collaboratively as we all move forward in our understanding of fine art.
We'll be exploring with you what art is and can be. An open-minded approach and a willingness to take risks will enable you to gain a better understanding of the subject. Making mistakes in art is an important part of growing as an artist. You will have the opportunity to develop your own work and style later in the course as you progress with your own ideas.
For more information on our curriculum content please visit the subject page here
Biology

Welcome to Biology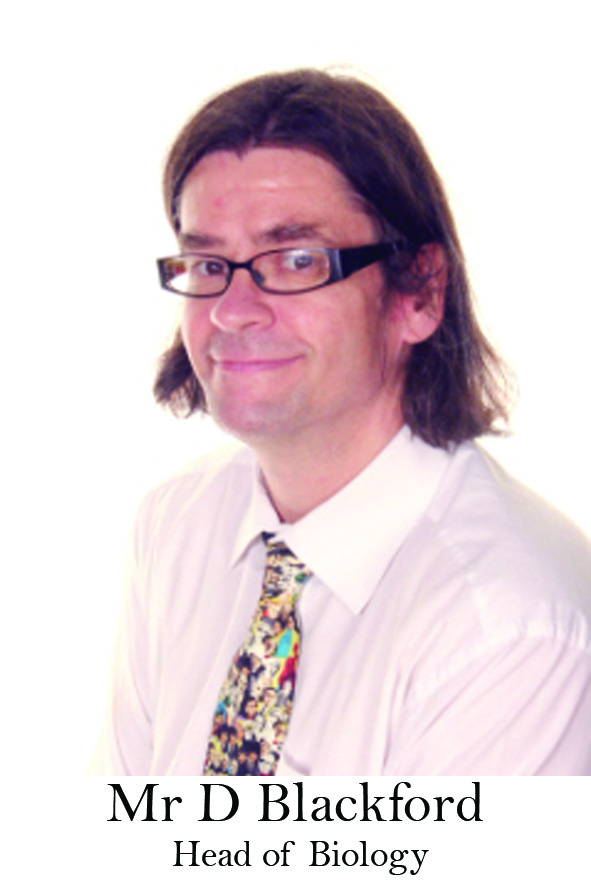 Head of Biology: Mr D Blackford
A level Biology will give you coverage of broad range of topics, from the molecular level of Biochemistry to environmental aspects of ecology. Early theories, such as those of Mendel are considered, as are the most recent developments in gene technology. Practical skills such as dissection, drawing, and colorimetry are an essential element of the course, and these are integrated throughout the two-year programme of study.
The course tests the full range of the student's skills. This makes it both an immensely rewarding subject that may be studied with a career aim in mind, or simply for the enjoyment of the subject and further appreciation of the natural world.
A level Biology is an excellent base for a university degree in healthcare such as Medicine, Dentistry, Ophthalmology, as well as Veterinary sciences, Biological sciences, and Biochemistry.
A level Biology can lead to a range of career opportunities including Environmental science, Natural sciences, Ecology, Sport and leisure and Teaching
For more information on our curriculum content please visit the subject page here
Business
Welcome to Business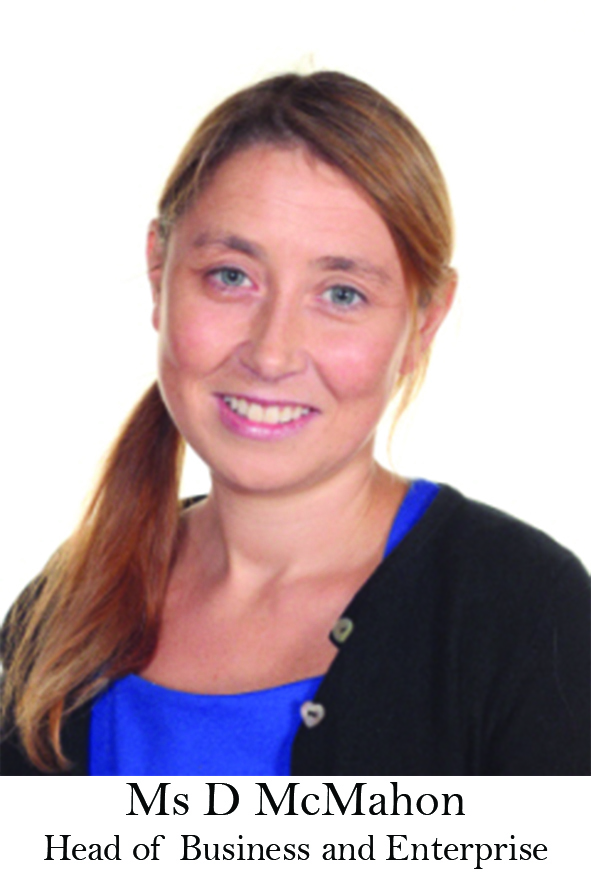 Head of Business and Enterprise: Ms D Mc Mahon
At Devonport High School for Girls our aim is to ensure students enjoy Business lessons and we are committed to providing a learning experience to help all pupils achieve their full potential. Business is an exciting and challenging subject which will introduce students to the dynamic world of business. Choosing to study for an A level in Business is a great decision to make for lots of reasons. This qualification will equip you for a career in a wide range of industries as business underpins more or less any job you might have in the future - from starting your own enterprise to working in the financial sector. We study a broad range of topic areas which enhance the development of future work-related skills. The topics are designed to provide each individual with the knowledge and understanding that underpins modern businesses, as well as providing students with transferable skills which they will later utilise.
We look at business issues from financial matters and human resources to more creative issues of marketing and technical issues of production to prepare our students with the skills to contribute positively to society.
For more information on our curriculum content please visit the subject page here
Chemistry
Welcome to Chemistry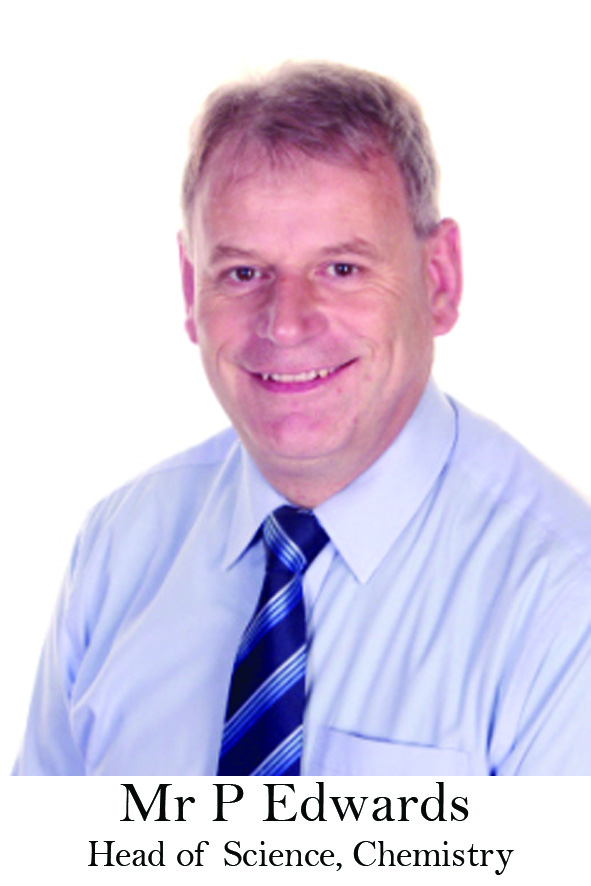 Head of Science and Chemistry: Mr P Edwards
A level Chemistry will give you an exciting insight in to the cotemporary world of chemistry. It covers the key concepts of chemistry and practical skills are integrated throughout the course. We hope the combination of academic challenge and practical focus makes the prospect of studying A Level Chemistry highly appealing.
You will learn about chemistry in a range of different contexts and the impact it has on industry and many different aspects of everyday life. You will learn to investigate and solve problems in a range of different contexts.
A level chemistry is an excellent base for a university degree in healthcare such as medicine, pharmacy and dentistry as well as veterinary sciences, biological sciences, physics, pharmacology and analytical chemistry. Chemistry is also taken by many law applicants as it shows you can cope with difficult concepts.
A level chemistry can lead to a range of career opportunities including chemical manufacturing and pharmaceuticals and in areas such as forensics, environmental protection and healthcare.
For more information on our curriculum content please visit the subject page here
Drama
Welcome to Drama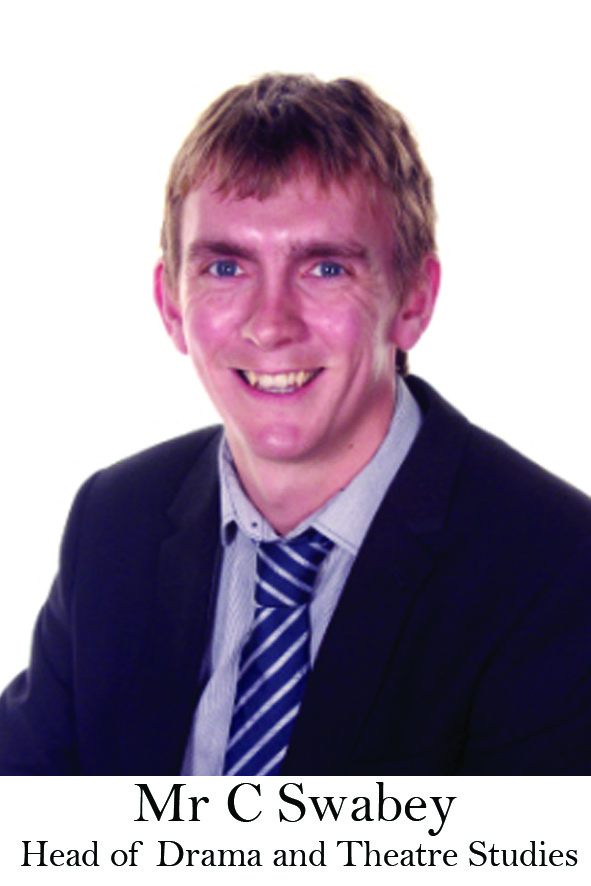 Head of Drama: Mr C Swabey
We passionately believe that a study of the Performing Arts helps to nurture and develop the key transferable skills employers will be looking for, in their future employees. Through a study of our subject, students develop the ability to communicate, sequence, analyse, interpret, and empathise. At A-level our students will experience a full range of classic and contemporary theatre through study, performance and visit, to make sense of the world they inhabit, and the one they will go on to shape. Students will experience a wide range of performance styles and genres.
Our department creates an extremely vibrant, bubbly and positive environment within the school, and we are extremely proud of our students' success, and their future pathways, from perusing performance at degree level, to medicine, law, care, education, and of course, literature and arts. If you are hardworking and like to be challenged, Drama and Theatre is the place for you.
For more information on our curriculum content please visit the subject page here
English
Welcome to English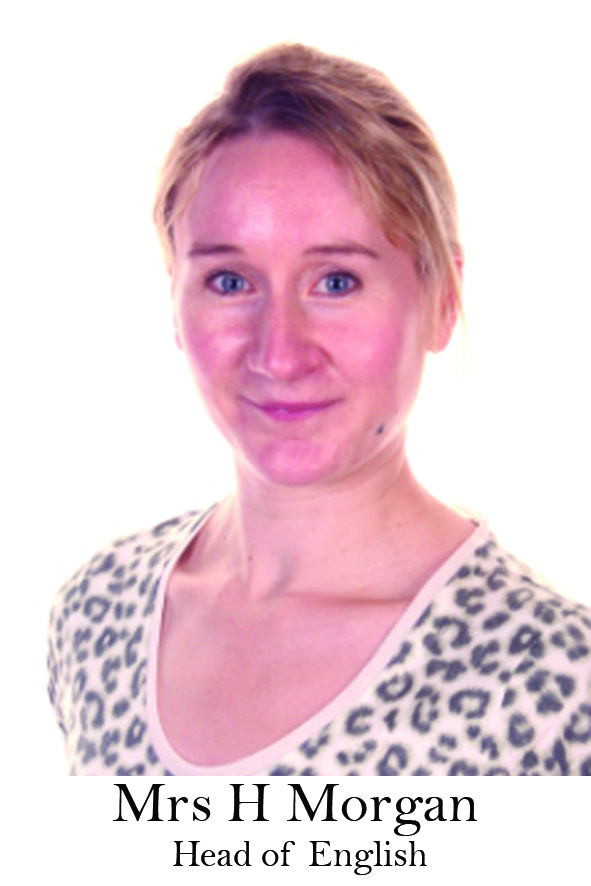 Head of English and Acting Assistant Headteacher: Mrs H Morgan
At Devonport High School for Girls our aim is to ensure students enjoy English lessons and continue their love of literature and language. We love books from many different genres and we have developed a curriculum that covers challenging texts from Shakespeare and F Scott Fitzgerald; through to modern texts such as Margaret Atwood's The Handmaid's Tale and Carol Ann Duffy's Feminine Gospels. Our chosen texts explore different cultures and experiences helping students to develop a critical voice, both written and spoken. We believe that the study of a diverse collection of great writing is essential for all; it builds empathy and creativity and as CS Lewis said "you can make anything by writing"
We are a very successful and happy department that creates a real team atmosphere in our lessons and every year we look forward to welcoming new students to Year 12. For more information on our curriculum content please visit the subject page
For more information on our curriculum content please visit the subject page here
Geography
Welcome to Geography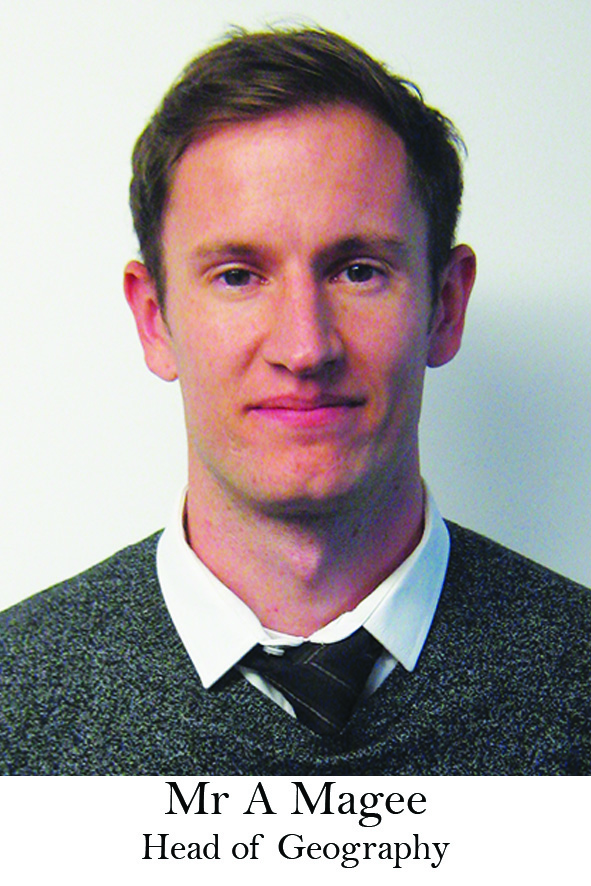 Head of Geography: Mr A Magee
Geography is the integrated study of the Earth's landscapes, peoples, environments and places – their nature, how they work, how they interact and how they change now and in the future. We aim to bring the natural sciences, social sciences and the humanities together.
In A Level Geography, we aim to help our students understand and analyse the dynamic and ever-changing nature of our world in the past, at present and into the future. We build on familiar topics and concepts learnt at GCSE such as coastal landscapes, urban change and natural hazards as well as exploring new and unfamiliar ideas and landscapes such as global governance and global health.
Students are encouraged to explore their own areas of interest through the completion of their independent investigation and are helped to do this through fieldtrip opportunities both local and further afield. We put an emphasis on learning from discussion and debate and we seek to engage important questions such as: How can we protect communities from natural hazards? How many people can planet support? What will climate change mean for life on Earth?
For more information on our curriculum content please visit the subject page here
History
Welcome to History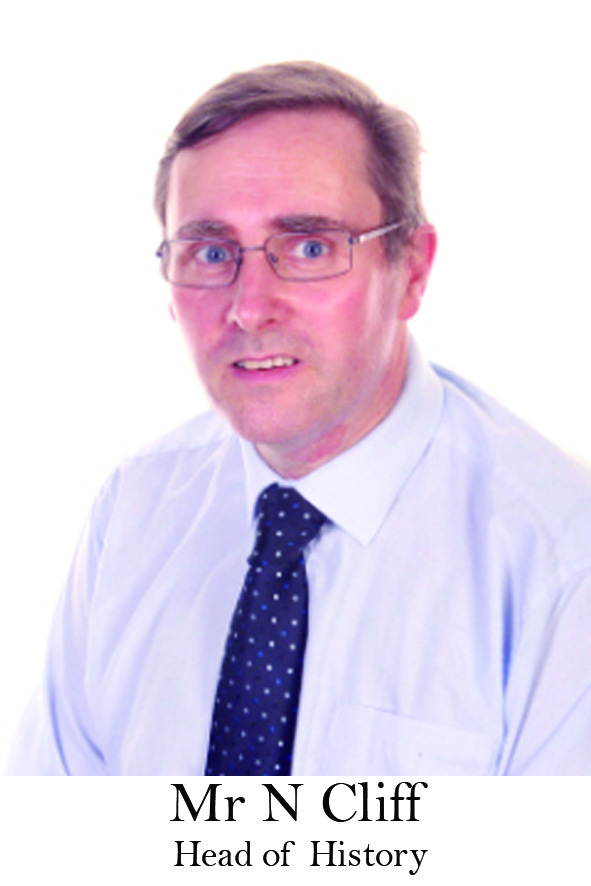 Head of History: Mr N Cliff
We are an enthusiastic department who enjoy working with students in Years 12 and 13 and supporting them in their preparations for life after A Level and sharing our love of academic research and History. We encourage our students to read widely around the subject and develop an enriched understanding of the course which will enable them to contextualise contemporary sources and recognise the reasons why historians offer particular interpretations about past events. Wider reading not only enables students to gain success at A Level but is also an invaluable introduction to degree studies and work-related professional qualifications. We aim to support our students to become genuine independent learners able to take the initiative in their learning and well positioned to make judgements about past events and question other viewpoints. The NEA coursework is an ideal opportunity for students to choose an area of History that particularly interests them and which they can explore across an extended time frame to assess change and continuity using a blend of analysis, contemporary sources and historical debate.
For more information on our curriculum content please visit the subject page here
Languages

Welcome to Languages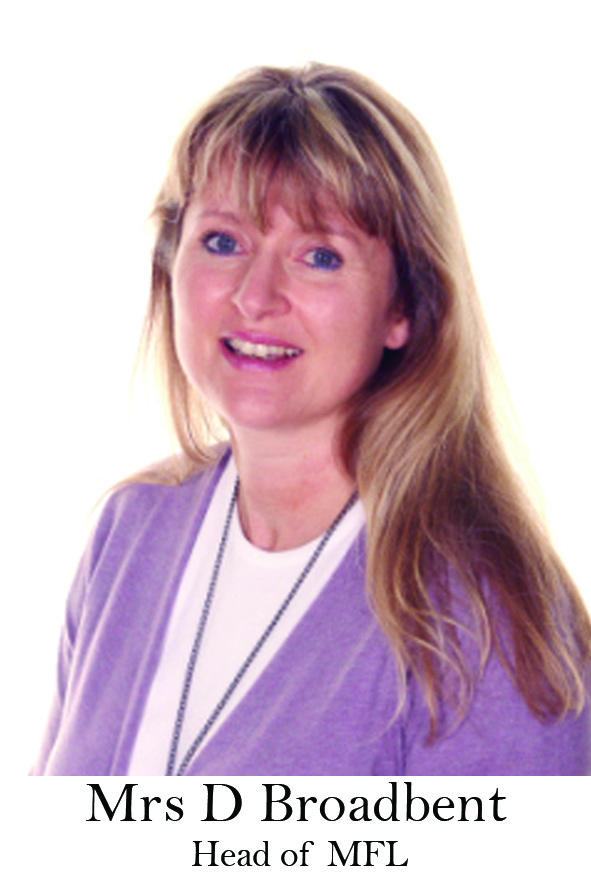 Head of Languages: Mrs D Broadbent
In today's Europe and in the wider global community, foreign languages assume great importance in cultural and vocational education. Studying a language at A level will enable students to build on the knowledge, understanding and skills gained at GCSE, focussing on how society in the countries where their language of study is spoken has been shaped socially, politically, culturally and how it continues to change. Alongside the in-depth study of the language, students will also study literary works and a film to gain a greater understanding of the key themes of the syllabus.
A qualification in an A level language helps to develop a wide range of transferable skills including communication, critical thinking, research skills and creativity which will make students more competitive and desirable in their future careers both at University and the world of work.
Above all, as committed and enthusiastic language learners ourselves, we wish to pass on a love of languages and encourage students to embrace language learning as a vital life skill.
For more information on our curriculum content please visit the subject pages by clicking the links below:
Mathematics

Welcome to Maths and Further Maths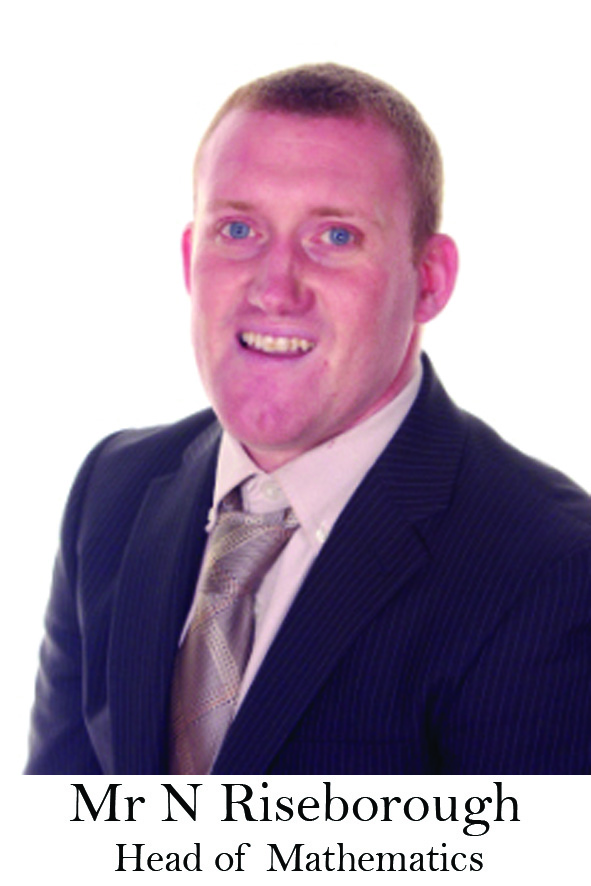 Head of Mathematics: Mr R Riseborough
The Devonport High School for Girls Mathematics Department consists of 8 specialists who are all incredibly passionate about our subject. This course will provide the opportunity to extend and deepen your understanding of Pure Mathematics whilst the Statistics and Mechanics elements will provide a better understanding of how mathematics is used in the real world.
The new areas of mathematics you discover will further develop your love of our subject, for example the power of calculus, whilst the rigour of the course will provide opportunity to develop resilience and your ability to solve complex problems. Our curriculum is rich in content with problem solving and collaboration at its core. It will stimulate moments of pleasure and wonder when you solve a problem for the first time, discover a more elegant solution, or notice hidden connections.
We very much are looking forward to welcoming both current and external students to our A-Level course. The mathematics you study will equip you with uniquely powerful ways to describe, analyse and change the world.
For more information on our curriculum content please visit the subject pages by clicking the links below:
Physics

Welcome to Physics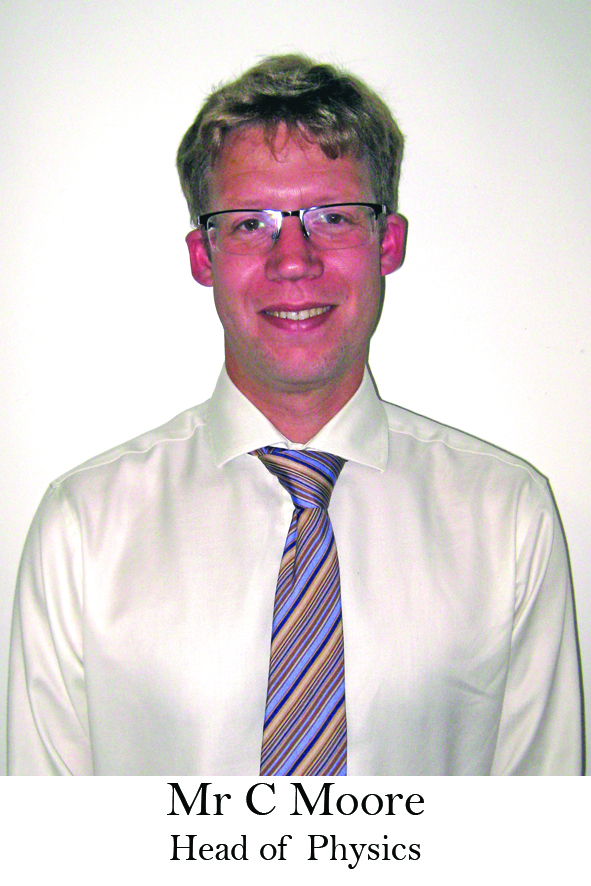 Head of Physics: Mr C Moore
A Level Physics is a fantastic subject that extends GCSE understanding of Physics, both into the nucleus and far beyond the Earth into space. The course is an excellent preparation for a wide range of future studies and careers, from Medical applications of Physics, to Engineering, Physics or Astronomy to mention a few. Practical work is an integral part of the course and is carried out throughout the programme of study, during which you will develop your skills to a more sophisticated level. You will attempt measurements of the gravitational field strength, absolute zero and other unfathomable quantities.
To succeed at the course it is recommended that you also study Maths, which is a key skill to develop. In Year 13 there is one option topic, which we will study as a group although it may be possible to self-study an alternative options.
For more information on our curriculum content please visit the subject page here
Psychology

Welcome to Psychology
The Psychology Department is a thriving area of the Sixth Form. It is regularly one of the most popular subjects chosen, and is delivered in an exciting and fascinating way. The study of Psychology enables you to think scientifically about behaviour, and how people think. It is a useful subject in terms of understanding societal change, crime, the behaviour of children and so on. It links across a wide range of topics and looks at a variety of case studies that help you understand where current theory and behaviour have come from. It gives students the opportunities to practise skills in analysis, evaluation and argument, and to become competent enquirers into scenarios.
Psychology links well with careers in Law, Teaching, Medicine and general healthcare, but also in areas of managing and marketing as well.
For more information on our curriculum content please visit the subject page here
Religious Studies

Welcome to Religious Studies

Head of Religious Studies: Mr A Abbots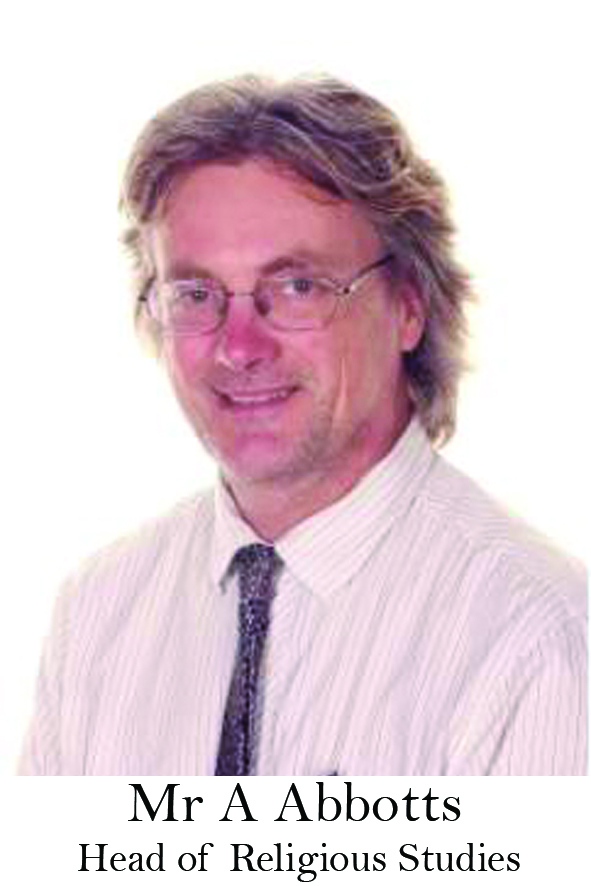 Religious Studies at DHSG involves the study of three areas: Philosophy of Religion, a World Religion (Buddhism) and Ethics. All offer different angles on the meaning of life, so if you often find yourself wondering what our existence is all about, this is the right place for you. This is above all a 'thinking person's subject' that should change your perspective on the world and invite you to consider ideas that never occurred to you before. You certainly don't have to be religious, but you will find an open, enquiring mind and a certain curiosity about life's biggest questions – Is there a God? Is there life after death? Why is there something rather than nothing? etc. – is key to your enjoyment. To get a qualification at the end is very appealing – especially if you remember this is a 'hard currency' subject that counts for a lot in your UCAS application. We regularly have people going on to Oxbridge with an A level in RS, for example. This should hopefully warn you that RS is not an easy option, far from it – student feedback frequently informs us it is one of the harder A levels. We have students who go on to do a wide variety of degrees, from Law and Medicine to English, History, Anthropology, Liberal Arts, Oriental Studies, Journalism and Media, as well as Religious Studies, Philosophy or Theology, of course. You do not need to have to have done RS at GCSE – it is a very different subject at A level, with a stronger emphasis on writing and expression.

For more information on our curriculum content please visit the subject page here
Internal students please apply using the form collected in school and externals students please apply online following the link below: