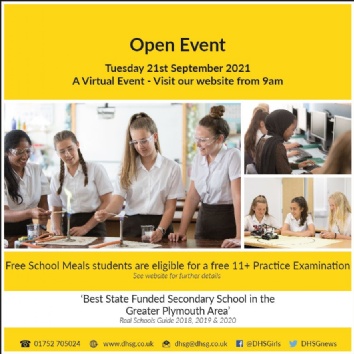 September 2021 Virtual Open Event
Welcome to Devonport High School for Girls. Unfortunately, due to current Covid restrictions, including the Local Covid Enhanced Response Area Directive, we are unable to hold an Open Evening on site. We will hold school tours for individual prospective students with one parent/carer between the 4th and 21st October 2021. Tours are now open for booking. Please see the online booking form HERE.
For all prospective students and their parents/carers, we have prepared a series of videos delivered by staff and students introducing aspects of life at Devonport High School for Girls.
The department links on this page will also guide you through the different subjects. We are very proud of our students and school, and we hope you find this helpful when considering the right school for your child.
Please click on the buttons below to view our open event videos.
Welcome from Mrs B Bell, Acting Head Teacher
Year 7 Induction — Layla, Year 7

The Transition from Primary School — Aisha, Year 9
Our Curriculum — Natasha, Year 11
Enrichment Opportunities — Katie, Year 11
Pastoral Care and Student Support — Mrs R Morgan, Assistant Head Teacher and DSL
Quotes from Ofsted and Parents/Carers
Parent/Carers Quotes

Ofsted Quotes
PTFA
Parent, Teacher and Friends Association — Parent Mrs K Baker
Our full school prospectus can be viewed on our prospectus page or by clicking here
Our social media channels provide a flavour of the different aspects of school life. Take a look below to find out more and follow us for regular updates.
Curriculum Area
English
Mathematics
Physics
Psychology
Biology
Chemistry
Languages
Drama
Music
PE
Art

Business

Geography

History

Religious Studies

Food, Textiles and Computing