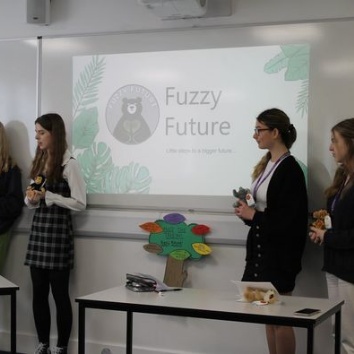 Our Young Enterprise team 'Fuzzy Future' were given an exciting opportunity to take part in a virtual Dragons' Den event today to help them prepare for the Devon and Somerset Showcase Final in May @YEDevonUK @youngenterprise
Students got a chance to do their business presentations to a panel of 'Dragons' who then asked them questions and gave them feedback. Their product is a soft toy and a small storybook 'Pipers Puzzles'. It tells the story of an endangered animal, a polar bear. Their product is educational and focuses on environmental issues such as climate change, pollution, and extinction. The team wrote and illustrated the book themselves.
The 'dragons' who listened to the pitches today were:
1. Ian McGregor. Ian has been a Young Enterprise business advisor for over ten years and is currently a Local Volunteer Board member.
2. Peter Jones - the Marketing Manager at Tiverton's 2nd largest employer HepcoMotion, a global leader in components for manufacturing and automation.
3. Dan Wiseman - Dan is a serial entrepreneur with businesses including Web Wise Media, founded in 2010. Dan recently appeared on Dragons' Den with the company and has ambitious plans for its future.
4. Peter Beaven – Deputy Regional Director for HSBC UK Small Business Banking, as well as an Exeter based property development company.