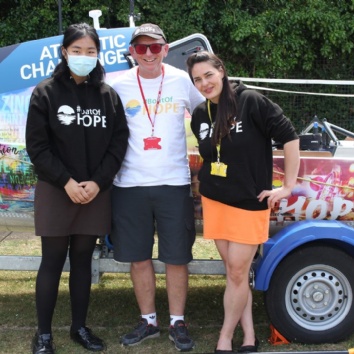 It's not every day that a massive state-of-the-art boat rocks up on the DHSG field at lunchtime.
So students were intrigued and excited to view the 'Boat of Hope' and meet its owner, Bernie Hollywood OBE. We felt privileged to be part of his national school's tour as DHSG's very own Jessica Xu (year 9) was one of 6 other winning school students, whose artwork was chosen to be part of the massive mural that wraps around the hull of Bernie's rowing boat, set to be seen by millions!
Art teacher Rebecca Fierek said, "I was delighted to hear about the 'Boat of Hope' competition last year, as it felt like a gateway for our students to make links between art and mental health and encourage much-needed discussion. I put the project out as an optional homework to KS3 and as a result, Jess Xu submitted her sensitive painting of her brother giving shelter to a small flower which won the praise of not only the judges but her peers. Equipping young people with knowledge about looking after mental health is so important in this day and age, and I am so proud of all of our students here at DHSG for engaging so well with the project. Let's keep the conversation about mental health rolling! "
Jess Xu, an aspiring artist, said, "For the competition, I have painted a boy in a field of sunflowers looking after a dandelion. Some people looked at my painting and thought it was depicting a boy blocking the dandelion from the sunlight and stunting its growth. Either way, I think both interpretations give way to separate depictions of hope–from a friend helping a dandelion grow to an obstacle preventing its growth. When I found out I had won, they surprised me as I felt the work I submitted wasn't the best or even too good but the fact I had won gave me hope for what I could do in the future and confidence in my abilities."
Flocks of students were keen to ask Bernie for his autograph and to ask many questions about his upcoming solo endeavour to row 3,000 nautical miles across the Atlantic this autumn. Bernie then delivered an awe-inspiring assembly to year 9, where he told us the story of his adventurous life and his latest mission to de-stigmatise and raise awareness of mental health issues among young people. Bernie said he was "blown away" by the reception and the buzz from staff and students at DHSG.
Year 8 artists have recently upcycled a discarded rowing dinghy by creating their own mural with illustrations and quotes inspired by their own thoughts and personal experiences of mental health, incorporated into a vibrant montage over the entire boat. Bernie was so impressed by their venture that he has invited us to display the dinghy as part of an exciting exhibition celebrating 'The Boat of Hope', which will take place in Liverpool Cathedral next summer 2023 after the completion of his solo Atlantic passage.
Meanwhile, the art department plan to exhibit our very own DHSG 'Boat of Hope' in the maths block for all to see.
For more details- https://www.boatofhope.com/ www.taliskerwhiskyatlanticchallenge.com