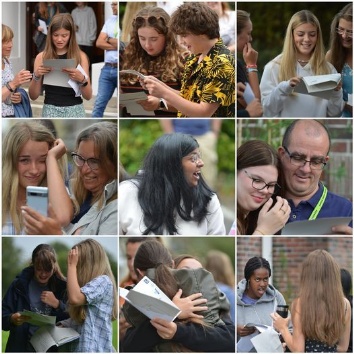 We are thrilled to announce that our incredible students at Devonport High School for Girls have once again achieved remarkable success in this year's GCSE exams.
With an average achievement of Grade 7, our students have truly demonstrated their dedication and academic prowess.
More than 70% of exam papers received outstanding grades ranging from 9 to 7, showcasing their commitment to excellence. What's even more impressive is that an astonishing 25% of all results awarded were the highest possible Grade 9s.
We are especially proud of the twenty-five students who achieved a remarkable milestone by attaining a minimum of 5 Grade 9s. A special mention to Samantha Beckett, Victoria Gauci, and Erin Lynch, who all achieved an outstanding nine Grade 9s each.
Our consistent commitment to excellence has led us to be recognised as the 'Best State Funded Secondary School in the Greater Plymouth Area' by the prestigious Real Schools Guide for several years. This recognition is a testament to our dedication to both academic achievements and providing enriching extra-curricular opportunities.
As many of our students prepare to transition to our esteemed Sixth Form, we eagerly anticipate their journey as they embark on A Level courses from this September.
Lee Sargeant, our Head Teacher, expressed his immense pride in the students' exceptional achievements, particularly in the face of the challenges posed by the pandemic. Their resilience and determination have truly shone through. A heartfelt thank-you goes out to our dedicated staff and supportive parents who have contributed to our students' remarkable success.
We extend our best wishes to all our students as they step into the next exciting phase of their educational journey. We look forward to welcoming many of them back to the DHSG Sixth Form.