Assessment and Reporting
Our aim is to work in partnership with parents/carers by producing regular updates on student progress which provides the relevant information needed for parents/carers to support their children in reaching their full potential.
Target setting
We are ambitious for all of our students to excel, so targets are set with this in mind. Also, a key measure for student performance is the amount of progress made by a student from Key Stage 2 (end of primary) to Key Stage 4 (GCSE) and in the Sixth Form, from Key Stage 4 to Key Stage 5 (A Level). Therefore, the targets we set students challenge them to achieve their very best. Students are set initial targets during the first half of the autumn term, which are then reviewed and amended where appropriate throughout the year/course of study. At all Key Stages 3 to 5, targets are based on Fisher Family Trust (FFT) estimates. FFT is a company who provide high quality performance data to help support schools in target setting and evaluation. Students are set challenging targets based upon FFT 20% estimates, which compares the past performance of similar students based on prior attainment, who ultimately achieved in the top 20% nationally for their ability.
Key Stage 3 (Years 7 and 8)
Key Stage 3 (Years 7 and 8) – End of Key Stage 2 results are used to indicate a student's prior attainment. We also use baseline testing at the start of Year 7 to enhance the target setting process, and to provide a benchmark for those students who join us with no end of Key Stage 2 results. For the more creative and practical subjects e.g. Art and Physical Education, broad targets are set in the first instance but as we gain a better understanding of students strengths, these are revised throughout Key Stage 3. Students are set end of year targets using the new GCSE grading criteria 9 to 1 (see chart below). These end of year targets are set in line with students ultimately achieving top grades at the end of their GCSE studies in Year 11.
Key Stage 4 (Years 9 to 11)
Key Stage 4 (Years 9 to 11) – As with Key Stage 3, end of Key Stage 2 outcomes are used to indicate a student's prior attainment. Target grades are given in the form of an end of GCSE grade, or the grade a student should be working towards through their GCSE course. Targets are given using the new GCSE grading criteria 9 to 1 (see below).
Key Stage 5 (Years 12 and 13)
Key Stage 5 (Years 12 and 13) – A students GCSE average point score is used to indicate prior attainment. Target grades are provided from the start of Year 12 in the form of an end of A Level grade, or the grade a student should be working towards through their A Level course.
For all Key Stages, students and parents/carers are informed of subject target grades via a target sticker which is distributed to students and stuck in their planners.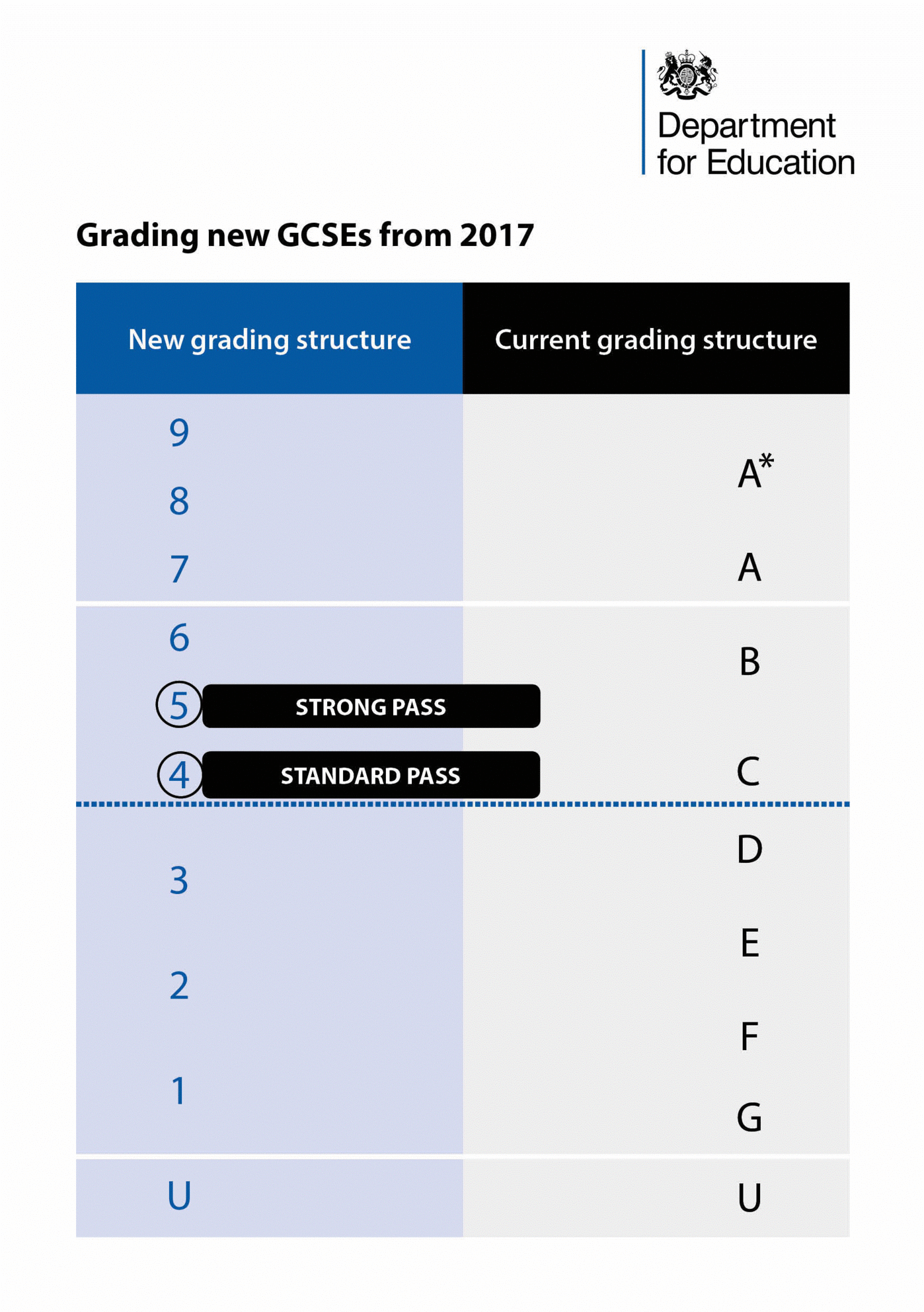 Progress
Progress
Parents/carers are kept informed of student progress throughout the academic year in the following ways:
Three progress reviews per year with approximately one produced per term
One parents/carers evening
One full set of written subject reports
Edulink One
Dates for the assessment calendar are indicated on the school calendar on the website.
Progress reviews
Progress reviews provide a general overview of a student's progress. For each subject area the following information is provided:
An indication of a student's behaviour for learning. Separate grades are given for both Attitude and Organisation using the following grades – O = Outstanding, G = Good, I = Inconsistent and P = Poor.
Target grade (see above).
The predicted grade gives an indication of the end of the year (KS3) or end of Key Stage (KS4 and 5) grade a student is likely to achieve if they continue making the same progress to date.

Parent/carer evenings
Parent/carer evenings are held once a year and provide an opportunity for parents/carers and students to meet formally with subject teachers to discuss student progress. Appointments are made by the students with each appointment lasting for 5 minutes. Parents/carers can arrange separate meetings with teachers at any point during the year by contacting the school office.
Parents/carers will receive one set of full subject reports each academic year. Parental/carer feedback is encouraged and can be done by completing and returning a parental slip provided.
Parents/carers can also track student progress via Edulink One. Parents/carers of all students are provided with a unique username and password which gives access to the following information about their child:
Timetable
Attendance
Merit marks
Behaviour marks
Progress reviews and reports
General student information i.e. home address and contact telephone numbers
If parents/carers have not received login details or have any problems logging on then please contact the school office for assistance.
If you have any questions or feedback about our assessment and reporting procedures please contact the school office or email lnorster@dhsg.co.uk